10 Steps to Learn How to Start an Online Store
March 21, 2022
updated June 15, 2023
Reading time ≈ 32 minutes
Jaqueline Corradi
Content Manager
Do you want to expand your business and enjoy the opportunities the internet may offer or begin a new one from scratch? When learning more about how to start an online store, you will see that it can be simpler than you think, if you plan well and choose the right tools. 
According to Statista report,  the number of digital buyers worldwide in 2021 was over 2.14 billion, while in 2016 it was 1.66 billion. Investing in having an online store of your own offers you the chance to be updated with the latest buying trends, and adapt your business to them.
As the numbers reveal, more people are buying through their smartphones, tablets, and desktop computers, the pandemic corroborated to that growth as well.
But, to conquer customers and sell through the internet, it is important to pay attention to the details, having an ecommerce website isn't enough, you need to provide a satisfactory customer experience too. 
1. Decide the Niche You want to Invest In
What market is your online store going to focus on? B2C, B2B, SaaS (software as a service), physical products, services? The options are vast, there are countless sectors, such as tech, beauty, clothing, food, decor, sports, home appliances, and so on. 
You can opt for having an online store focused on a very specific niche, for example, gaming accessories, or eco-friendly products for traveling. When you aim at such a specific public, it can be easier to deal with the competition since you will have fewer stores investing in the same products that you.
You can build your brand's image to be recognized as a specialist in a market niche and distinguish yourself from generalist competitors. On the other hand, your target audience will be smaller than from a department store, for instance. But, it allows you to narrow down customer behavior, and create more efficient strategies, at the same time.
 If you sell a wide range of products and aim at a broader market, your number of potential customers will be larger, so the competition. It may be more difficult to outstand your online store from the others, and gain visibility. 
It's up to you to evaluate what you think is worth more, both approaches have their advantages and disadvantages. But, always make sure there is demand for the products you wish to sell, make a market research before deciding. 
2. Select the Products You're Going to Sell
Once you have decided which market sector you are going to work in, it's time to define the products that are going to be available in your store. If you are a software as a service company, your product will be your software. 
A product isn't always a physical item, it could also be an ebook, and a subscription, for example. When we talk about digital items, the need for setting up your online store is different, it won't require having a place to put your storage, and you don't have to worry about shipping the order. 
If you are going to commercialize services, such as massage, and hair and beauty services, then, it's necessary to enable customers to make appointments through your website and create a system to manage the schedule not to overbook.
You have the option to choose to sell physical products that are made by your brand too or become a reseller. If you have your own production, when you set up your online store, evaluate how long it takes to make each item to know how it will interfere in the shipping process and to give an accurate delivery time.
In the case of choosing to be a reseller, it's possible to hold your own products or use the dropshipping system. In the second situation, the customer will buy from your store, but the supplier is the one in charge of storing and shipping the items.
It reduces the expenses as you don't need to have a warehouse, and besides you don't need to worry about logistics. However, with dropshipping, as you don't have control over fulfillment, you run the risk of facing problems with the company responsible for it, which can damage your brand reputation.
Customers are buying from your store, they won't care if the problem is related to a third party when a product doesn't arrive, consider that. Assess the risks and gains, and if you opt for dropshipping, choose carefully the companies you are going to partner with. 
3. Research your Target Audience
To learn how to start an online store and be successful, it also takes a lot of research to understand who your target audience is.
How are you going to know what are the best marketing strategies to be applied, if you don't have information about your target audience's behavior? Without knowing them deeply, you won't have enough information to guide your actions. 
When you understand your potential customers, your marketing and sales strategies are much more likely to succeed. You can offer what your audience wants, communicate to them using the channels that they prefer, show how your products help to solve their demands and provide content they find valuable. 
It can even help you to select the products at your store because you will be able to identify your customer demands better. Try to answer the following questions:
Where is your target audience located?
What is their age range?
How often do they buy online?
Where do they buy on the internet?
What are their pain points?
How do your products offer a solution to them?
This data already enables you to create persona profiles, which can be described as fictional characters that contain the main characteristics of your audience.  When your marketing team draws the actions to promote your business, they can do that according to the persona profiles, to be more accurate and get the desired results.
4. Build a Business Plan
Creating a business plan is a step that shouldn't be skipped when we talk about how to start an online store. It shall include the audience and market research, the products that are going to be sold, and the main actions to start your ecommerce business.
The plan is going to serve as a roadmap, you will describe your business, where you want to get, and how.
Instead of taking action as you go, when you have a business plan and dedicate yourself to its creation, it's easier to set efficient strategies since the goals, target audience, and niche market are well-defined.
You and your team are going to have a deeper understanding of the ecommerce business and be able to make accurately driven decisions. The business plan has to be complete, addressing the multiple aspects that are required to maintain and develop your online store.
Make a list of the things you don't know about, such as taxes, supply chain, and warehouse issues to research each one and include in the plan. 
To begin writing, you can answer basic questions: what type of products do you plan to sell (physical, digital, or services)? Who is your customer? Will you need to invest in an external site to open the ecommerce? 
Also list the resources that you are going to need, including financial, physical, and human. How much capital do you need to launch your business? If you already own a store and are just extending its reach to the online world, it may be easier, but if you are founding a new company, it will take more planning. 
Think about the future, make data-based projections, and set a list of short and long-term goals. Then, according to them, set milestones and key performance indicators, which are essential to know how to evaluate your business and your team's progress. 
Check if you include all of these points in your business plan:
Company overview
Products you are going to sell
Where you are going to sell your products
Target audience
Product sources
Market analysis
Logistics 
Marketing plan
Financial plan
Goals
5. Create Your Ecommerce Website
Building an ecommerce website is easier than you think, and it doesn't require design or coding skills if you opt to use a website builder. There are many platforms out there that offer an easy-to-use website editor, which allows you to choose a pre-built template, and customize the pages as you need.
Evaluate which is the best website builder for online stores for your company, and get to know the tools it offers to you to have a personalized website that meets your customer needs.
The website has to be aligned with your brand's visual identity, and be well-organized, so visitors can easily navigate through it and find the products they are looking for. 
Define a domain name that is easy to remember, avoid words that are hard to spell, and don't put special characters, such as hyphens, or numbers. Separate the product into categories, and provide a complete product description on the product's page, along with high-quality pictures that show the item as close as possible to reality.
Pay attention to implementing SEO best practices, which are going to help you to rank your pages better on search engines like Google.  Plan the keywords to be used on each page, customize the URLs according to them, write meta descriptions, and add alt text to images. 
6. Define your Shipping and Payment Methods
Another very crucial step in how to start an online store is to set the shipping and payment methods. If you are selling a digital product or service, or use the dropshipping system, the shipping settings won't be necessary, otherwise, you need to create a logistic plan and organize how the deliveries are going to be made.
Which shipping companies are you going to use, who is going to be in charge of making the packages, and tracking the orders to make sure that they are delivered on time?
You need to organize all these processes before launching the ecommerce website to guarantee that customers will receive their products in the estimated delivery time. 
Problems such as orders that take too long to be delivered, or are canceled, are frustrating for the customers, and may significantly affect your brand's image. Think ahead and develop a management system to prevent this kind of problem. 
To offer an even better customer experience, it's also important to offer different payment options, like credit and debit cards, and payment via gateways such as PayPal. Research the costs, and set the payment methods that are viable for your business.
7. Develop Marketing Strategies
How is your target audience going to get to know your online store? Conquering visibility is essential to promote your ecommerce and reach potential customers, and you should start planning marketing strategies as soon as you begin creating your ecommerce.
Based on your target audience profile, define which social media network you are going to use, create your company's profile or page, and develop a schedule to post regularly.
Social media are valuable assets to engage with leads and customers where you can boost brand awareness, display your products, sell, and get to know more about your audience. 
Use PPC (pay-per-click) campaigns on social media and configure them to appear only to the people who have your customer's profile, which will help you to save money and have better results.
Enjoy your website features as well to create content marketing strategies, for instance, by inserting a blog section into it and writing articles on different stages of the buyer's journey.
Research relevant keywords to your market niche, and develop articles focusing on them, can help you appear on the first search result page at Google, conquer visibility organically, and grow in credibility and authority in your area. 
8. Provide Excellent Customer Experience
Many times what differentiates a store from another isn't their products, which can be the same, but how you make your clients feel when they are buying at your ecommerce website.
Many of them are even willing to pay more if the service is worth it, as the Achieving Customer Amazement Survey Report, from 2021, showed. 52% of the interviewed consumers stated that they prioritize customer experience over price.
By offering seamless customer service through all the processes, you can conquer loyal customers, and establish your brand on the market.
Pay attention to your website quality, does it facilitate navigation? Can products be easily found?  How long does it take for each page to load? All of this can affect the customer's decision to make a purchase or not. 
Including features such as live chat, customer review, and FAQ, also help the customer to have a better experience because you are giving them tools to make the best choice. Be careful to create a system where your leads and clients don't have to wait too long to have a response when they send a message. 
9. Pay Attention to the After Sale
Another fundamental part when it comes to learning how to sell online and building a loyal customer basis is to invest in communication strategies focused on the after-sale. 
Your job isn't done as a purchase is concluded, on the contrary, it's needed to think about how you can convince the customer to come back to your store.
To encourage the next purchase, you can send a thank you for your order email,/blog/tools/best-website-builders-for-seo.html with a discount coupon. Try to learn more about the customer experiences on your website, ask them to fill out a form giving their opinion, pay attention to the feedback, and show that you care about their opinion. 
You can also create a reward program where loyal customers get points that can be turned into discounts and free products at your online store, for instance. Provide reasons for them to want to visit your ecommerce and keep buying from your company. 
10. Keep Track of KPIs
The key performance indicators that you have established on your business plan must be watched closely. By keeping track of them, you will be able to identify which strategies aren't working as they should, and quickly change. 
Even when you have everything planned out, it's only when the plans are put into action that you can actually see if they will provide the expected results. It's possible to reduce the risk of error, but no business is risk-free. Be prepared for it.
The advantage is that, by analyzing the KPIs, you have the opportunity to catch a problem in the beginning and alter the scenario. Your strategies are supposed to change along the way, learning to adapt is also part of the business development process.
At your website, you can use web analytics tools to assess its performance by checking the conversion rate, bounce rate, average time spent per session, exit pages, most clicked areas at each page, and much more. 
It enables you to understand the type of content that your customers like the most, and the most effective calls to action. When you continuously look for ways to improve, you are going to see that it's possible to keep your business growing and updated with market changes. 
20 Best Online Store Website Builders

Wix offers an industry-leading website builder for online stores where you are going to count on more than 500 free templates, separated into categories, like fashion & clothing, electronics, home & decor, and much more. 
If you still don't have your brand's identity well-developed, enjoy Wix Logo Maker, and Business Name Generator. To be found online easily, you can also create your own domain name. The platform allows you to add up to 50,000 products to your online store. Wix provides features to manage your inventory and suppliers in a single platform as well.
Another advantage is that you can define custom shipping and automate your taxes for every sale. Wix also gives you the option to sell your products on multiple marketplaces, like Facebook, Instagram, eBay, and Amazon, and you can control everything in one dashboard.
To improve your revenue, expand your number of customers and create more effective marketing campaigns, you will have an analytics dashboard to analyze important metrics and get new insights from them. With the Wix Owner app, you are going to be able to manage your business from everywhere. 
Key features:
More than 500 free online store templates
Wix Logo Maker
Wix Payments
Create a domain name
Sell products on multiple sales channels
Inventory management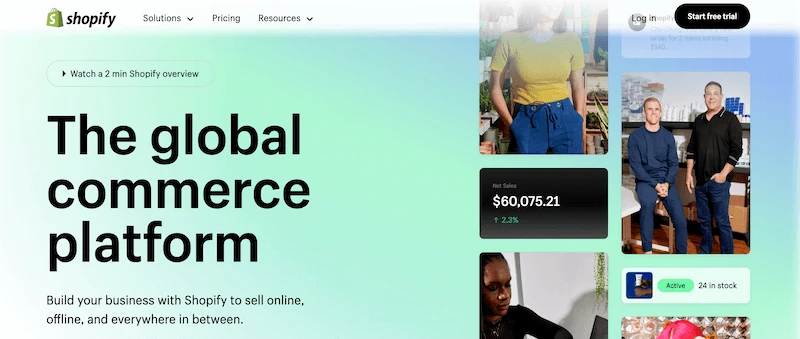 No doubt, Shopify is one of the best website builders for online stores since it was developed focusing on offering the best solutions regarding how to make an online store. 
With its drag-and-drop store builder, you will easily customize your pages by choosing one template, then inserting images and other graphic elements, such as the brand's logo, to align with your company's visual identity. 
All themes provided are fully responsive, meaning your customers can enjoy a great user experience on your online store whether it's accessed on their desktop computers or mobile devices.  
To facilitate the payment process, Shopify payments enable you to accept credit cards without the need for any third-party account. The system supports over 100 external payment gateways. Besides, the platform offers multiple other benefits, including a comprehensive dashboard where you are going to get a detailed view of your business. 
You can check the number of sales, growth rate, track orders, and have a better understanding of your audience to create more effective sales and marketing campaigns. Sell in different marketplaces and have all your inventory connected to Shopify. 
Key features: 
Drag-and-drop store builder
Designed for mobile
Shopify payments
Comprehensive dashboard
Shopify mobile app
Built-in SEO features
Inventory management
One of the easiest website builders for online stores, with SITE123 you can develop your ecommerce with just a few steps. Create your account, select the plan that suits you best, then choose the template that has more to do with your store type, considering the products you are going to sell.
Its intuitive website editor facilitates customizing the sections of your website in order to align it with your brand's visual identity. Regardless of the template you select, you already are going to have a mobile-friendly online store. Create a custom domain to be found easier online, and strengthen your brand as well.
Once you have created your website, you can upload your products, set prices, payment, and delivery options. Count on SITE123 24/7 customer support to assist you in case there is any doubt.
Key features: 
Pre-built templates
Website editor
Mobile friendly
Custom domains
SEO tools
24/7 customer support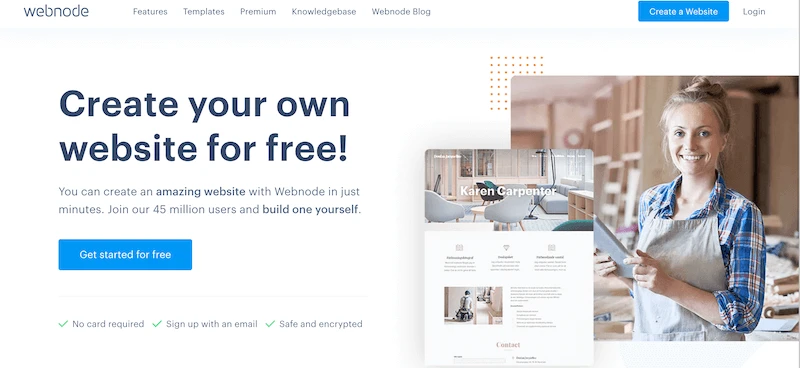 Webnode makes the task of building an ecommerce website much simpler, starting by offering you several carefully made templates, which can be customized to suit your store specificities. You can quickly add new products, including their images, and descriptions, set prices, and just click publish to start selling. 
Webnode allows you to manage the sales on its dashboard, keep track of each order and send notifications to customers, so they can follow up on their order status as well. The platform also allows you to offer a wide range of local payment options, including wire transfers, credit cards, PayPal, and payment upon pick up. 
Define the shipping methods that are best for your customers, your products can be delivered through DHL and FedEx, for instance, and you can offer the option to pick them up in-store too. To help boost sales, you can create discounts and promo codes on the website too. 
With the store statistics feature, Webnode gives you valuable data to analyze your traffic, identify the most popular products and understand what are the weak points of your website that need to be enhanced. 
Key features: 
User-friendly website builder
Create a custom domain
Reliable hosting
Pre-built templates
Add new products in minutes
Intuitive store management
Local payment methods
Store statistics
Import products in bulk
Quick and simple checkout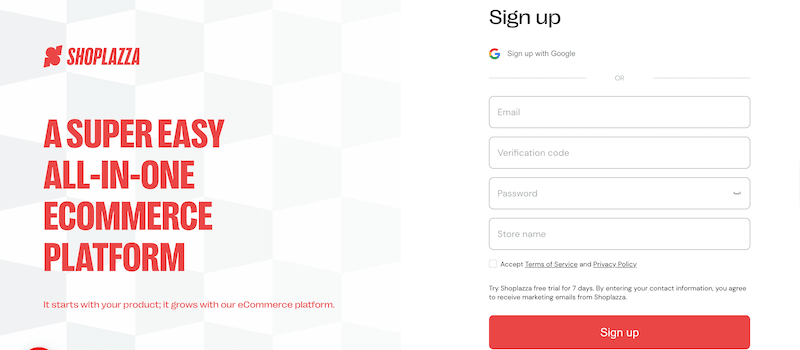 Shoplazza offers you an easy-to-use platform to create your ecommerce. You can choose a pre-built theme, then use the drag-and-drop online store builder to customize the pages as you wish. 
You will count on an inventory management system to make it simpler when it comes to organizing the stock and the orders. It stops sales when the inventory reaches zero, avoiding selling out-of-stock items. You can upload an unlimited number of products and customize up to 300 product variants.
You even have the option to add the buy button on other websites and blogs, which weren't created by Shoplazza, so you can sell in more places. Improve the checkout process using the platform AI (artificial intelligence) suggestions. 
Key features:
Pre-built templates
Drag-and-drop online store button
Inventory management system
Marketing tools
SEO tools
Staff accounts
Multiple payment options
Shipping partners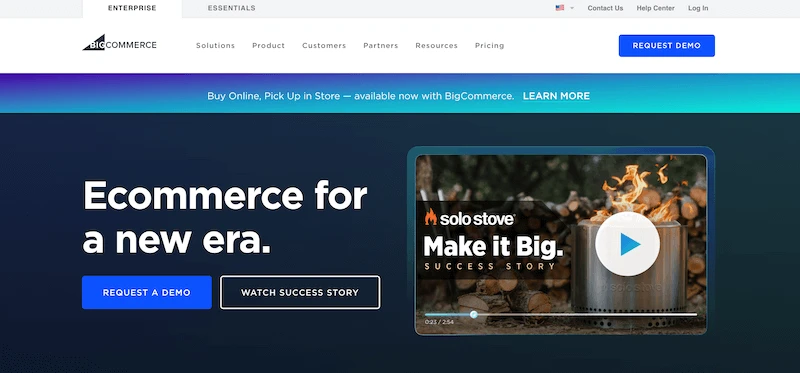 With BigCommerce website builder for online stores, you can design with freedom, operate with no worry, and enjoy its features to innovate. You will get fully customizable themes with built-in HTML, CSS, and JavaScript, and be able to edit them using the drag-and-drop editor. 
The platform also allows you to customize the checkout process to make it simpler for your customers, encouraging them to finalize purchases, also you can make your website mobile-friendly. To make sure all the sections are configured properly, use the Stencil CLL tool to test the website. It can be integrated with WordPress as well. 
To boost sales, BigCommerce enables you to provide multiple payment methods and create more than 70 native discounts and promotions, without requiring scripting. The SEO tools, such as creating customizable URLs, enable you to optimize your online store to be found easily on search engines. 
You can also make your products available on multiple sales channels, in marketplaces, and on social media. If you have a B2B company, BigCommerce has specific solutions for that too, including quote management, bulk pricing, and customer groups. 
Key features: 
Page builder visual editor
Theme customization
Checkout customization
Preview before publishing
WordPress integration
SEO tools
B2B tools 
What about counting on one of the best website builders for online stores and having the option to build your ecommerce for free? Ecwid allows you to start selling for free. Use ECWID design tools to develop your website, then add your products, set payment and delivery methods, and you are ready to launch it.
You can control everything from a single platform and commercialize your products on other marketplaces, such as Instagram and Amazon, with a centralized inventory. Your customers will have the option to choose the channel they prefer to use, enhancing their experience. 
If you have a physical store, you can integrate your website into it by offering the option to pay in-store, with the benefit that the inventory is going to be updated automatically. Ecwid also counts on marketing tools, you can create ad campaigns and control everything on the platform.
Key features: 
Design tools
Centralized inventory
Sell on social media and marketplaces
Automate your marketing
Sell subscriptions
Offer promotional discounts
More than 50 payment options
Automated taxes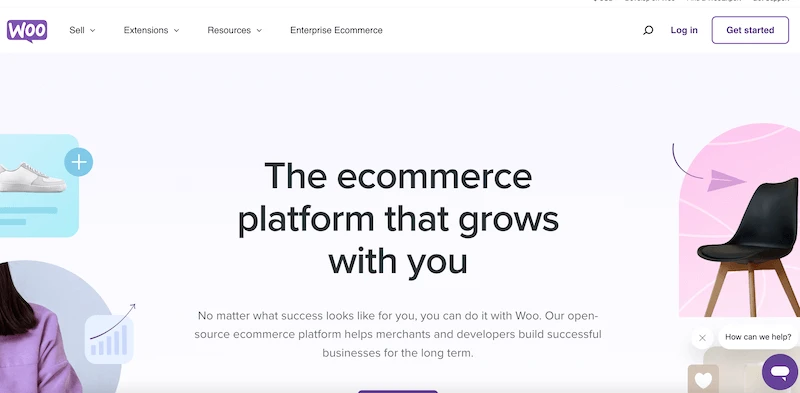 WooCommerce is an open-source ecommerce platform built on WordPress. If you already have a website developed by WordPress, all you need to do is add the WooCommerce plugin and start setting up your online store. If you don't have a website yet, don't worry, the platform will offer you multiple tools to develop it. 
With WooCommerce, you can offer multiple secure payment options, accepting major bank credit cards, bank transfers, checks, and cash on delivery. The platform enables you to integrate your online store with 140 region-specific gateways, including ApplePay, GooglePay, and Stripe, for instance. 
You are going to have an intuitive dashboard built to facilitate the management of daily tasks of an ecommerce, which allows you to automate several processes such as tax calculations, and have live shipping rates. You can also manage everything from the WooCommerce mobile app for IOS or Android. 
Besides, it's possible to create different types of stores to sell from physical products and appointments to members-only digital content, and improve your ecommerce performance by integrating it with hundreds of free and paid extensions. 
Key features: 
Open-source ecommerce platform
Built on WordPress
Fully customizable
Add hundreds of extensions
140 regio-specific payment gateways
Live shipping rates
Automated tax calculations
Jumpseller allows you to choose from multiple responsive template options to start building your online store and use the customization features to add your brand's identity to it. You can have your ecommerce in multiple languages, which helps to provide a better user experience for customers from different countries and reach a bigger audience. 
Talking about user experience, Jumpseller offers several other features to enhance it. For example, you can let shoppers refine their searches by adding filters. Besides, you can give them the option to buy from other channels too, such as Facebook Commerce, Google Commerce, and WhatsApp.
To make sure your customers' data is secure, Jumpsellers uses firewalls, and intrusion detection, and the checkout process is protected by HTTPS/TLS data encryption. The platform supports multiple payment gateways, for example, PayPal, Stripe, and Mercado Pago. You can enable manual payments too, such as bank transfers, checks, and cash on delivery. 
Key features: 
Pre-built templates
Customizable designs
Popular payment options
Global shipping options
Supports multi-language
Refine product search

By using Strikingly, you are going to count on an easy-to-use website editor, which enables you to invest in developing a beautiful and intuitive website that is attractive to your customers. Totally optimized for selling, once you have built your website, you can configure the ecommerce.
Add products, set prices, define shipping and payment methods, and integrate with PayPal or Stripe. You can also add coupons, and membership log-ins, and create your own domain. To enhance security your website will get HTTPS automatically for free. 
Use the analytics built-in to analyze your online store performance, identify the main sources of traffic, how many visitors turn into customers and what is the bounce rate, for instance. Through it, you can identify the weak points of your website and create strategies to improve. 
Key features: 
Easy-to-use website editor
Optimized for selling
Add membership log-ins
Connect to PayPal and Stripe
Analytics built-in
HTTPS built-in
24/7 support
With more than 40 million users around the world, Weebly is one of the best website builders for online stores because it provides advanced ecommerce tools. You can create a completely customized website with the drag-and-drop editor, and then add features like a fully integrated shopping cart and a secure checkout directly on your website.  
From Weebly's dashboard, you will be able to manage your inventory, track products, and automatically update shoppers when items are sold out. You also have the option to display the number of items remaining on product pages, which helps to create a sense of urgency. 
To help customers to find the product they are looking for, insert the filtered product search tool, improving customer experience and increasing the chances to sell more. Another benefit is that with Weebly you can sell not only physical items but also downloadable ones, which are automatically delivered to your customers. 
Key features:
Website editor
Complete website builder for online store
Fully integrated shopping cart
Secure checkout
Track and manage your inventory
Filtered product search
Free ecommerce hosting
Artists and graphic designers who wish to sell their work on demand need to build an incredible portfolio website. This way, people can check the previous projects you have participated in and your art pieces to make sure you are the right person to hire. That's exactly what Pixpa will help you with. 
This website builder allows you to showcase, sell and share your work online. You can use templates made for photographers, creators, and small businesses, then customize it as you see better. The platform is easy to use and provides you with several tools, like built-in SEO, pre-built content blocks, and customizable forms. 
Key features:
Easy-to-use interface
Pre-built templates
Responsive design
24/7 customer support
Built-in SEO tools
Pre-built content blocks
Shift4Shop is a free website builder which offers many resources, starting from giving you a big variety of professionally designed, industry-specific, and mobile-friendly templates. They have a web design tool to help you customize everything, but you can edit directly the HTML and CSS too. 
The free plan includes unlimited products, features, and bandwidth. You will also count on migration assistance and fraud protection. Shift4Shop provides marketing tools, as well, like built-in e-mail marketing, and the possibility to include group deals, daily deals, coupons, and discounts, among others.
It also has cart abandonment recovery tools, focused on automatically engaging users, and motivating them to finish their purchase. Another benefit is that each part of your website is pre-optimized for SEO.
Key features:
Inventory management tools
Product management software
Analytical tools
Cart abandonment recovery tools
SEO optimization
Visa CPI Certified Security
Real-time shipping rates
Integrated with PayPal
Centralized inventory to sell in different channels
Developing your online store without knowing how to code, and being able to set up everything by choosing a pre-built responsive theme: Volusion makes it possible and also provides a 14-day trial.   
After customizing your website design, you can add several tools such as shipping methods, other selling channels, automated email, payment gateways, and stats about your store performance. Besides, the built-in SEO management will help you to gain more visibility.
When adding your products, you have the opportunity to use some tools that will make it even simpler and more effective, like variant pricing, import products via CSV, and rich text product descriptions. 
Key features:
Responsive themes
Add site search
Built-in SEO
Integration with marketplaces
Secure checkout
Comprehensive management system
Search friendly URLs
Admin Social Management
Reporting tools
Adobe Commerce is driven to help companies to develop a great shopping experience, with several features. In the page builder, you are going to encounter an intuitive interface and content editor that allow you to customize everything, using the drag-and-drop tool.
The platform was created to help businesses of all sizes, small to big companies according to their needs. You can integrate the store with other selling channels, use B2B solutions, and easily manage your inventory.
Adobe also has a global community where you can find different partners to help you grow and find exactly what you were expecting. For example, you can have technology partners that will give you directions to optimize the way you use Magento. Community insiders, and certified Magento developers, can guide you through creating a better design. 
Key features: 
Customer segmentation and personalization
Integrates with other sales channels
Cloud-based services
Mobile-friendly
Live search
Instant purchase
Connected Enterprise Resource Planning
Squarespace is an ecommerce website builder that will enable you to create pages that better suit your business needs. Focusing on growing and expanding, before creating your account, you will choose which template has more to do with your brand visual identity, and customize it, the images, the color palette, and fonts. 
Each online store sector has its specificities, taking that into consideration Square Space includes many tools to add to your choice and also has marketing features. This way, you can implement actions such as email campaigns, through the platform. 
They provide solutions not only to sell physical products, but also digital content, like ebooks and music, subscriptions, or services. Besides, if you sell online or in-person, you can use the Squarespace inventory to keep everything synced. 
Key features: 
Customizable templates
Mobile optimized design
Easy-to-use interface
Centralized inventory
Real-time shipping estimates for US customers
Simple payment and checkout
24/7 support
Automate sales tax filing
Built-in SEO tools
With PrestaShop, you can count on a highly scalable and flexible option to have an online store that suits your client's needs. You can fully personalize the website pages by choosing a pre-built theme, adding useful features, selecting the color palette, font, inserting images, and much more. 
The platform has an intuitive interface, which means you and your team can easily learn how to navigate through its tools and make the most of it to offer the customer experience. You can manage everything from a single platform, including controlling the inventory, the payment process, and shipping. 
You also can enjoy the marketing tools to launch campaigns and promote your brand. Another advantage is the option to sell internationally, by having a multilingual store and adding multi-currency options.
Key features: 
Pre-built themes
Easy-to-use
All-in-one-platform
Sell internationally
Marketing tools
Analytics tools
Customer support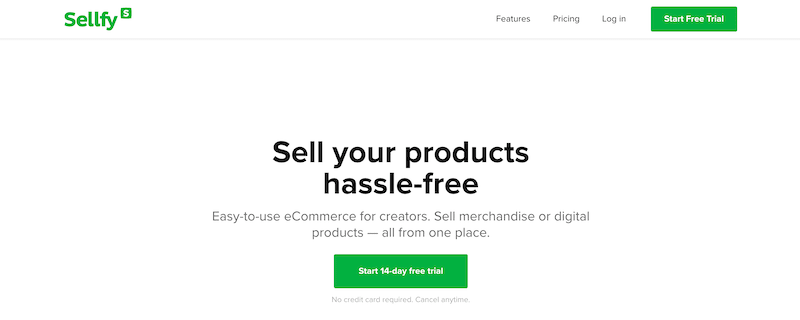 Sellfy is an easy-to-use ecommerce platform that allows you to quickly understand how to make an online store with just a few clicks. It was developed focusing on helping creators to sell their digital products and merchandise online. 
To begin, all you need to do is sign up for the platform, add your products, then customize every page to have your brand's identity. You can also use Sellfy to commercialize your products on social media like Facebook and Instagram and manage everything in one place. Enjoy the built-in marketing features to promote your store and enhance your revenue. 
You can sell a huge variety of digital products, such as ebooks, videos, audio, and other files in multiple formats. It's also possible to create digital subscriptions and charge your customers periodically, another possibility is offering video streaming services on demand. 
Key features: 
Easy-to-use
Sell products and subscriptions
Responsive design
Customization tools
Built-in marketing features
Sell from social media
Multiple payment options
The BigCartel platform is recommended for artists who want to sell their products online. You will find the proper tool to make it easier to run a creative business. To begin building your online store, select one of the pre-built themes, and customize it according to your brand's visual identity.
Then, add the products, and set up important configurations such as the payment and shipping methods. You can count on very useful tools to manage your store, fulfill orders, update products, check stats, and run promotions from any device. 
Key features: 
Developed for artists by artists
Easy-to-use
Pre-built themes
Personalization tools
Management tools
ShopWired is considered the best ecommerce platform in the United Kingdom. It offers you beautiful and responsive themes, so you can build your online store without having to design it yourself, but still be able to customize the details to be aligned with your brand's visual identity. 
The platform integrates the most important features for managing an online business, so you can centralize all your tasks in a single place. You will be able to keep track of all the orders, update the product catalog, and create promotions. If you already use another platform, you can fully migrate to ShopWired in 7 days or less.
Key features: 
Responsive design
Pre-built themes
Customization tools
No coding or software installation required
All-in-one platform
Sell on social media
Customer support
Insightful reports
Advanced b2b features
FAQ: How to Make an Online Store
How much does it cost to build an online store?
It isn't possible to set one price. It depends on several factors, including the ecommerce website builder and the plan you choose to use. You need to consider other costs related to the type of online store you will create too.
How can I source products for my online store?
It's possible to buy the raw materials from other companies and manufacture the items, buy them already made and be a reseller, sell digital products, or opt for the dropshipping business model. In this last case, you will only be responsible for promoting the products and the partner company of your choice will be in charge of storing, packaging, and delivering the products sold on your online store.
Is it possible to start an online store with no money?
You can make an online store website for free as there are ecommerce platforms that have no paid plans. However, you need to have a budget to buy or manufacture the products, and pay the other costs related to opening and keeping a company functioning, such as the taxes.
Where can I sell products online?
Besides creating your own ecommerce website, you can sell products on social media platforms, like Instagram, Facebook, and WhatsApp, and in marketplaces such as Amazon, eBay, and Etsy.
Start an Online Store in Different Sales Channels
Besides learning how to start an online store to sell on your website, it's also advisable to use more than one sales channel and sell on social media platforms, such as Instagram and Facebook, and marketplaces, like Amazon and eBay.
This way, your customers have the opportunity to choose the platform they prefer to buy at. Using multiple sales channels can help you expand your reach and conquer more customers. Research which of those channels your potential customers prefer, including highly targeted marketplaces, and invest in selling on them as well.
You will see that many CRM software make this task of how to start an online store in multiple channels even easier by enabling you to integrate your website inventory with marketplaces.
Like what you've read?
Sign up and try JivoChat for yourself!
It's free and only takes a couple of minutes to download.