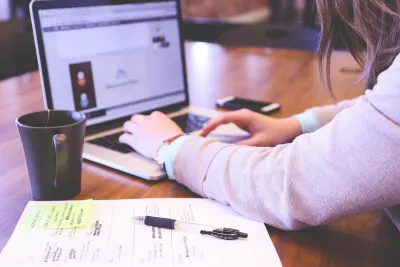 8 Professional Bio Examples to Inspire You
August 26, 2022
updated July 7, 2023
Reading time ≈ 7 minutes
Jaqueline Corradi
Content Manager
Reading professional bio examples is undoubtedly helpful in identifying the best ways to present yourself when it comes to showing how you stand out at work, your experiences, and your skills. 
Having a professional bio isn't only necessary for your resume when you are looking for new job opportunities, but it may come in handy to gain credibility for networking with other professionals and if you need to represent your company. 
We have separated some incredible professional bio examples used on websites and social media platforms. Check them out, and discover how you can write yours. Sometimes it's difficult to write about ourselves, right? The examples will aid you to start and have new insights.  Enjoy it, and show your potential through words. 
Where Can You Add Your Professional Bio?
One of the first doubts about creating a professional bio is where to insert it. This will depend on the marketing strategies you wish to use to promote your career. For instance, do you intend to use Instagram and Facebook for professional purposes? If so, not only the bio must be about your work, but also the posts.
LinkedIn, which is a social media platform dedicated to the business world, is a perfect place to include your professional bio. Actually, if you decide to create a LinkedIn profile, it's a requirement. 
In your profile, you have the opportunity not only to present yourself through the bio, but also to add the courses and certificates you have completed, where you have worked, and publish regularly about your experiences.
Other places to include your professional bio is the website of the company you work, since some of them have the team section, presenting the employees, or on your own company website. You may also create an online portfolio or a blog, which are very common tools used by freelancers to show samples of their work. 
How to Write a Professional Bio
A professional bio can be the first impression someone will have of you when visiting your LinkedIn or website, for instance. It needs to be well restructured and contain the main information about you. It should include:
Your first and last name;
Your current occupation;
A brief description of your job responsibilities;
Your main achievement;
Your values;
A little bit about who you are outside work. 
4 Professional Bio Templates
You can write your professional bio in the first or third person, it depends on where you will publish it. If it's on your social media profile, it should be in the first person, but if it's on your company's website, in the third person would be more appropriate.
Template 1
(Your name) is an experienced (tell what you do). Driven by (what you value), he/she/they take pride in providing the best (your service) possible. As a (your profession) his/her/their goals are (your goals). In addition to his/her/their primary job functions (your name) has been recognized for his/her/their extraordinary commitment to (your achievements).
Template 2
After earning my (degree) in (area of study) from (school), I entered the ( business sector) world to explore my passion for (what you like). In addition to my primary job functions, I was recognized for my commitment to (your achievements).
Template 3 
(Name) is a (title) who works with (who you help) to (how you help them).
He/She/ They (knows/believes) (what you know/believe about the work you do).
He/She/ They have (landed/secured/garnered/worked at/supported) (insert your most compelling experiences and achievements). (First name) is a (trained/certified/awarded) (insert relevant training, awards, honors, etc). He/She/ They hold a (degree) in (area of study) from (university).
Template 4
(Name) is passionate about (Career Field) because (Why Are You Passionate About Your Job?). He/She/They have been recognized in their field for (Professional Accomplishments) and graduated from (University if applicable). In his/her/their spare time, (Name) enjoys (Hobbies). He/She/They currently live in (Where You Live).
Professional Bio Examples
1. Chimamanda Ngozi Adichie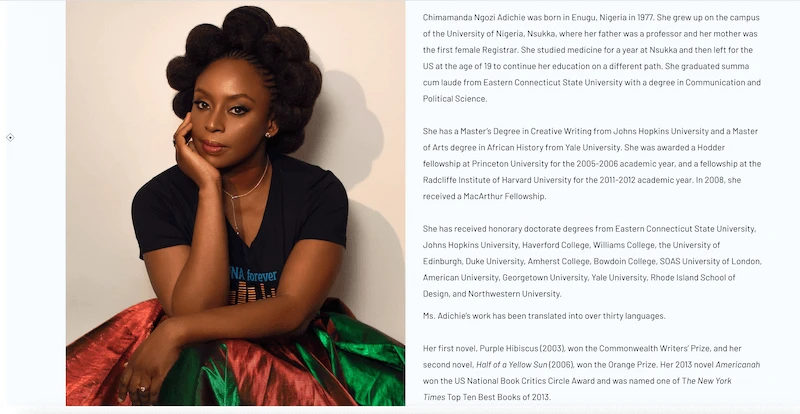 The writer Chimamanda Ngozi Adichie's bio published on her website is a great example of how you can present someone's work and highlight their differentials. The text doesn't focus only on the books she has written but talks about her background, her studies, and the prizes she won. At the end of the text, it's possible to have an idea of who Chimamand is, and how she has stood out as a writer.
2. Jay Shetty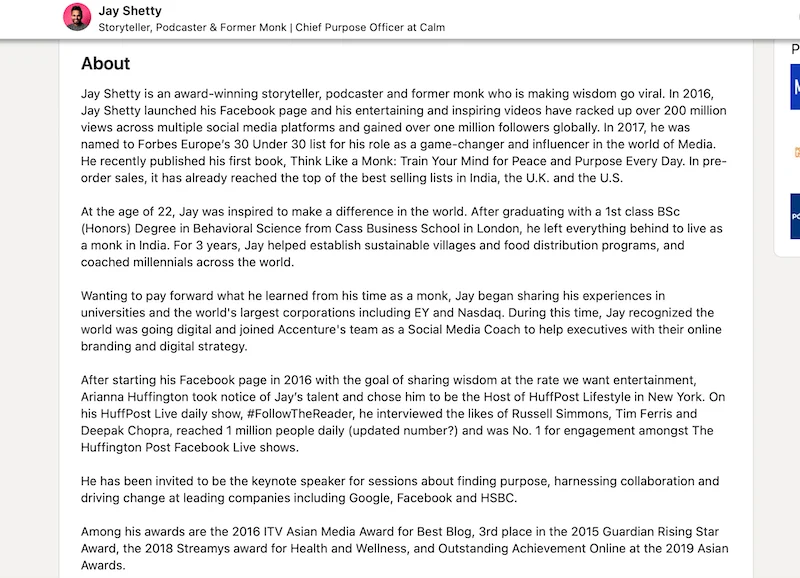 Jay Shetty LinkedIn profile is an example of how you can use an impact phrase to start your professional bio and instigate people to keep reading. The sentence "Jay Shetty is an award-winning storyteller, podcaster, and former monk who is making wisdom go viral", certainly makes us curious to know how he went from a monk to becoming a podcaster. 
3. Melanie Everett
Melanie Everett has a real-estate company. In the company website sectionthat she presents herself, Melanie talks in first person as a way to get closer to the reader. 
She uses storytelling to involve the audience who gets to know not only her professional background, but also her personal life, which can create a stronger connection, and help build trust. When Melanie talks about how she started and her insecurities, in the beginning, it causes people to identify with her. 
4. Mark Levy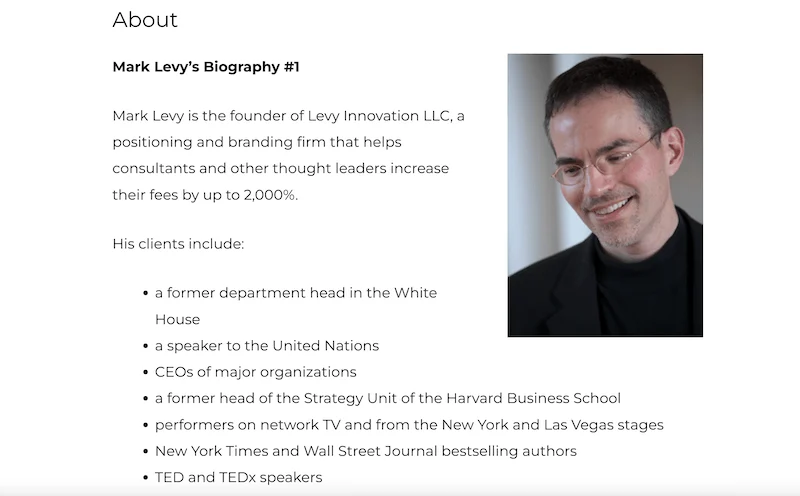 The founder of Levy innovation, Mark Levy, presents the results of his work and talks about some important clients that he has as a way to show his credibility. It gives him authority and proves why he is good at what he does.
5. Anna Goldwater Alexander

Anna Goldwater Alexander is the director of photography in the Wired, and her bio is published in the magazine website.  It gives us a great example of how it's possible to write a short bio that not only summarizes the career aspects but also briefly talks about the person's personal life, so we can know her a little bit more, beyond her job. 
6. Trinity Mouzon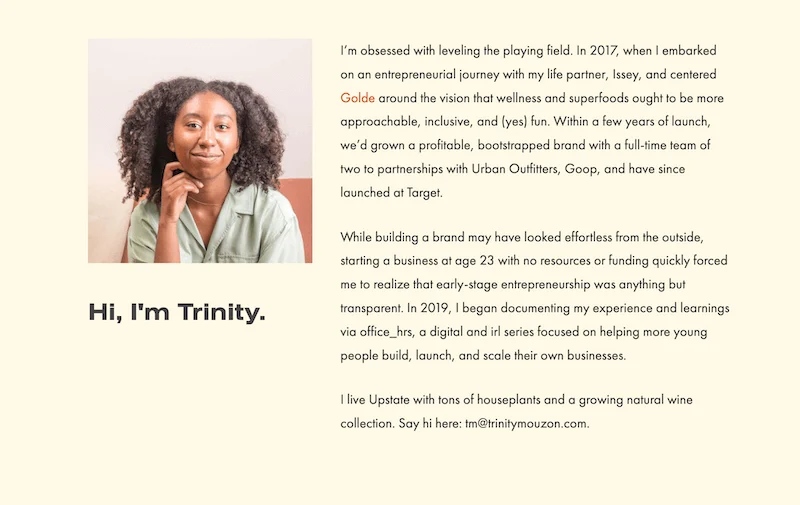 In Trinity Mouzon's website, the entrepreneur states her main goal and value right on the first sentence, showing us her focus: "I'm obsessed with leveling the playing field".
As she explains her journey, Trinity also points out her business achievements, "(...)we'd grown a profitable, bootstrapped brand with a full-time team of two to partnerships with Urban Outfitters, Goop (...)". 
This gives credibility to her brand and herself as a professional. She ends the text with a personal touch that humanizes her, and can create a connection with the audience: "I live Upstate with tons of houseplants and a growing natural wine collection.". 
7. Tim Cook
Creating a professional bio on Twitter may seem challenging since you need to write it shortly. But, Tim Cook showed it's possible to do that. Certainly, the Apple CEO is already well-known, but he put the main information about him on his bio and even added personal touch. The use of emojis makes the text more informal but suits the platform perfectly. 
8 Brandy Wykes
Instagram has also become a business platform, used by many people and brands to sell, engage with their target audience, and create work connections. If you are using Instagram for professional purposes, your bio must also reflect that. In her bio, Brandy Wykes, Mayes NYC Founder, presents her job and what her focus is in a brief and direct way. 
Create your Professional Bio
Now that you have seen such great professional bio examples, what about starting to write yours? If you are suffering from blank page fear, a tip to begin is to make a list of what you think you should include in your bio. For example, your current job, main skills, and experiences. Make a draft, leave it aside for a while, read it again, edit it, and review it until you get to the final version.
Like what you've read?
Sign up and try JivoChat for yourself!
It's free and only takes a couple of minutes to download.