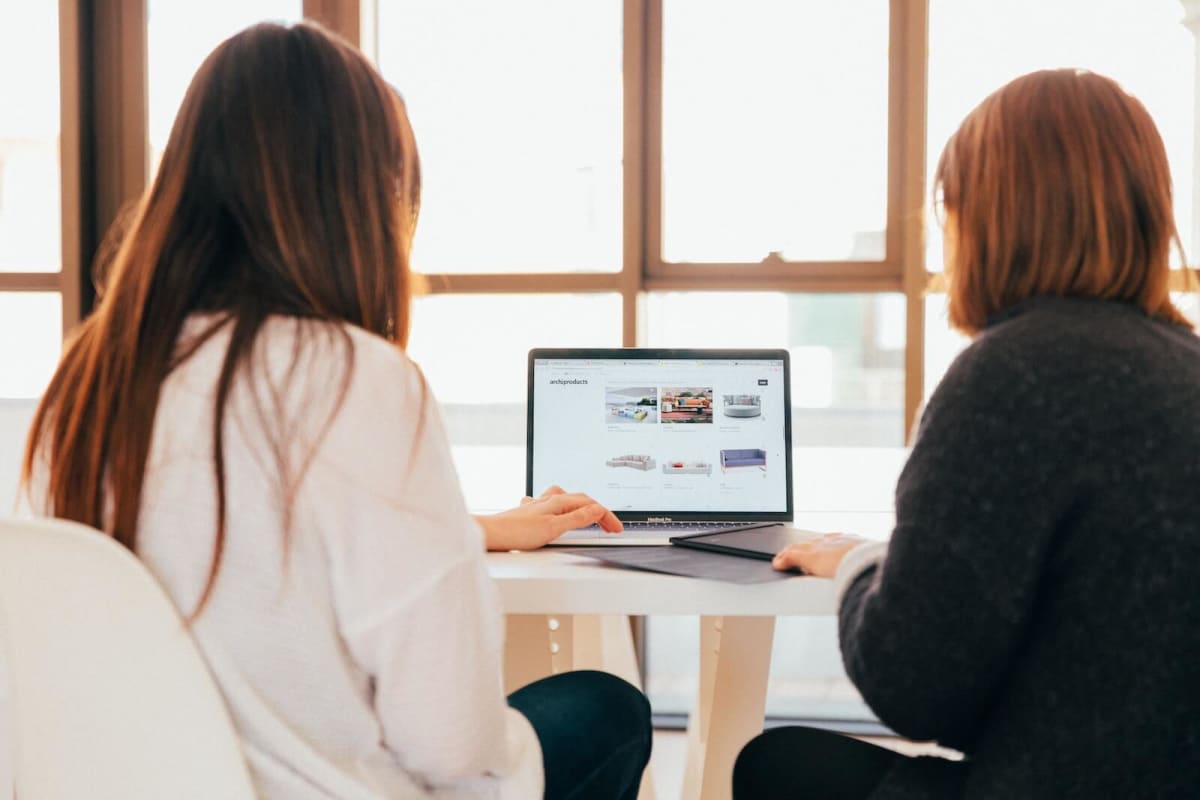 18 Best Website Builder Templates to Create Your Pages
Website builder templates can turn the task of developing a website into a much easier one. It enables you to use a pre-made design and customize your web pages from it, usually through a drag-and-drop editor where you can insert text, images, videos, other graphic elements, and resize and position them as you wish. 
Selecting the right template is very important to provide a great user experience, organize your website content in a way that is easy to navigate, and attractive for your target audience.
It will also differ according to the purpose of each page, for example, you are going to find pre-built templates developed for portfolios, product pages, home page, menu, and so on. 
We have separated multiple template options from different website builders, so you can choose the platform and design you prefer. And, the best is you don't need to have design or coding skills to make a website that's going to help your company to grow and achieve your goals.  

The template "Tech Company", as the name already suggests, was developed for startups, applications, and high-tech companies.
With a design that fits perfectly whether you are using a mobile device or a desktop computer, it has a one-page interface where you can navigate through different sections of the website just by scrolling down.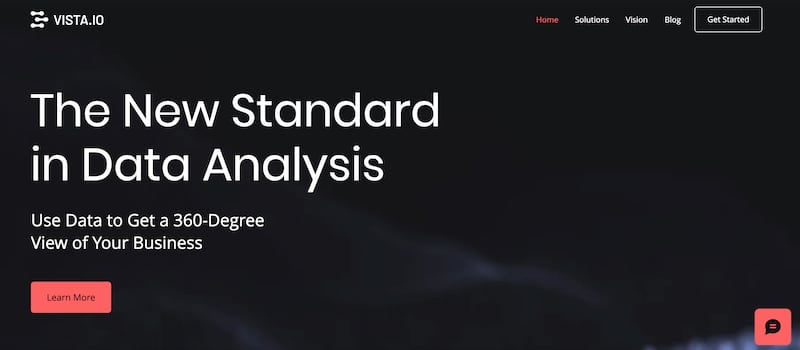 As you move your mouse or fingers, the information appears, making the pages seem more dynamic. The background is in black in contrast with the letters in white, which creates an impact and catches the readers' attention.
The minimalist design helps to focus on the main message of each part of the website and has a modern style. 
The Electronics Store website template was built for ecommerce sites. In the superior menu, you can add the product categories, a search bar, and the log in section, which makes it easier for visitors to navigate through your store.
On the home page, it's possible to use a video as a background and also include banners to highlight specific products and special offers.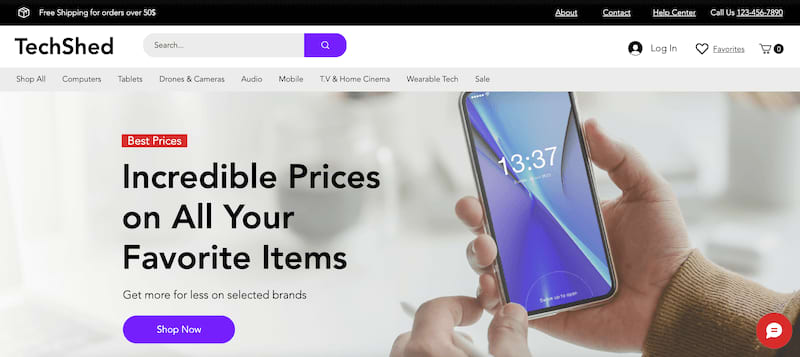 By scrolling down, the visitor will find the best sellers and on sale sections, everything organized to help create an intuitive experience. You have the option to insert forms as well, for example, to sign up for your newsletter. 
The Engineering LTD template was developed for a business website. It has a one-page interface with a minimalist design with a white background and letters in black, other colors are used only in the details and to highlight important words. 
There is the "About" section where you can present your company's history and the "Projects" section is a photo gallery, enabling users to see previous works.

There is also a space to know how to get in contact with the company. All the information is well-organized and structured hierarchically, enhancing the user experience. 
With the pandemic, a lot of restaurants created their own websites to put digital menus available, and also to offer delivery services.
The Greek Restaurant template is designed for this sector and enables the visitors to check your menu, make reservations online easily, know more about the restaurant and get into contact.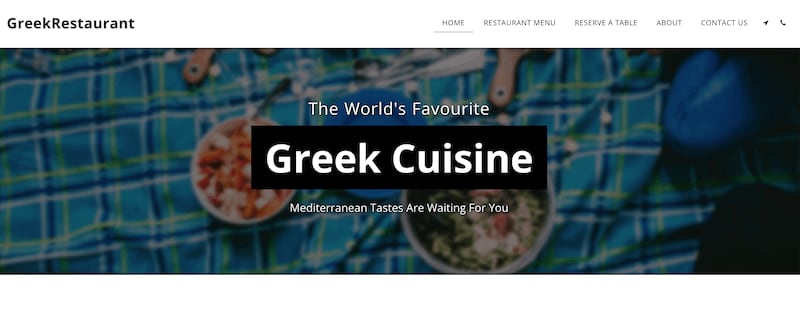 The responsive design enhances the user experience by providing smooth navigation through mobile devices and desktop computers. The visitors can navigate through the website by scrolling down or using the superior menu to go directly to the desired page.
The Design 10 template has a minimalist yet fun style. It counts on several features to make the pages easy to navigate through and interesting. For example, on the home page, you can add a superior menu with every section of the website, and also include the social media icons to redirect to them.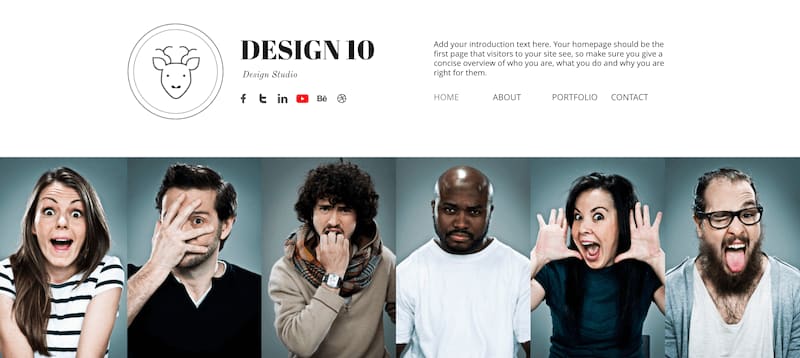 It enables you to add a portfolio section, which can be made in the format of a photo gallery. It also has a space for customer reviews, which helps to give credibility to the brand. 
The Fashion boutique template, which was built for ecommerce websites, has a very colorful design and focuses on the use of photos to highlight the products. On the home page, you can add a banner showing specific products or special discounts, for instance.
The superior menu is fixed and appears on every page. It's divided into the categories home, collection, about, store, and contact, but you can use different section names and customize as you want. 
The Cosmetic Brand template has a minimalist design with a white background, helping to make the product images stand out. You can include different sections to the website, such as an online store, contact page, and about page. Use the fixed superior menu to direct visitors easily to each section.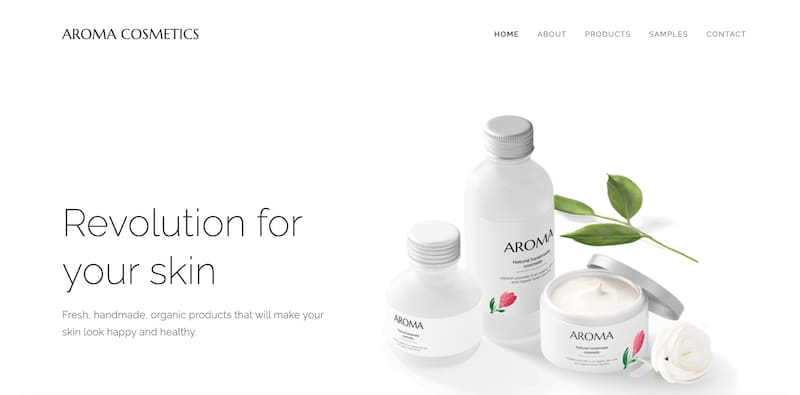 If you are looking for a website builder template that is fit for a hotel website, the Boutique Hotel is a great option. It provides a simple but elegant design with a white background, letters in black, and details in gold.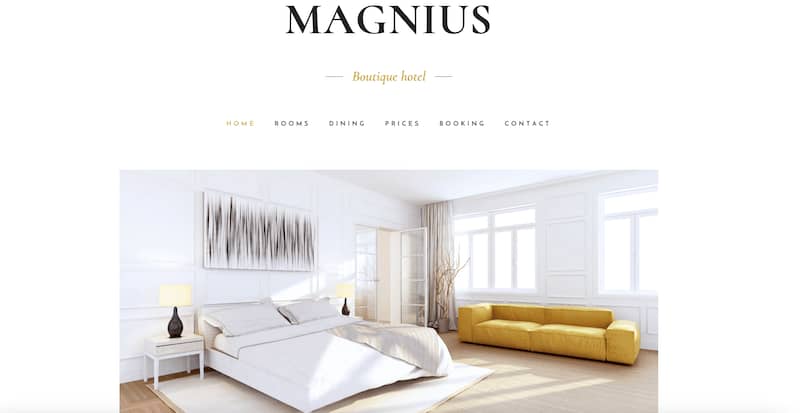 You can add sections such as "Rooms", "Dining", "Prices", "Booking", and "Contact", and link to them in the superior fixed menu. Insert images of the accommodations and other spaces at the hotel to call the website visitors' attention.  
The Reservoir template was developed focusing on the health and fitness companies, which sell services, such as yoga classes, and products as well. The background in lilac and the text in white create a clean interface with a touch of color, without adding too many graphic details.

The titles and text are written using more than one font type, making it more stylish. You can add images and videos in every section too, include a simple form to schedule classes or other appointments, and also sell online courses, for instance. 
Trustlane is a website builder template that was developed for business websites. It has a classy and refined style with its color scheme in white, navy blue, black, and just some details in gold.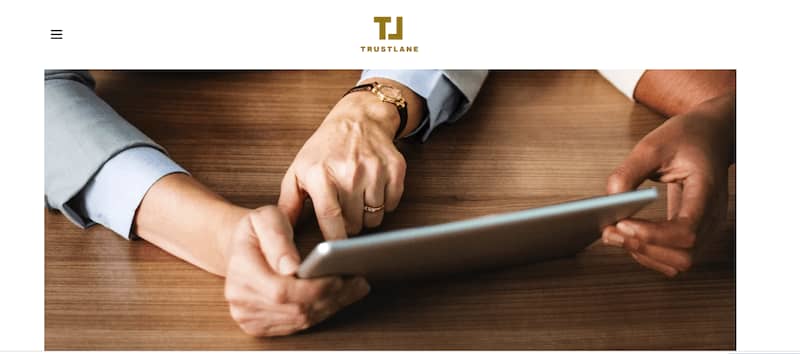 With a version for mobile devices and another one for desktops, it also has a collapsed menu on the header, where you can direct visitors to each section of the website. Include your social media links and contact information in the footer. 
The Winkel template has a minimalist design, it's built for ecommerce and focused on highlighting the product images, and description. The clean and cool look has everything to do with online clothing stores.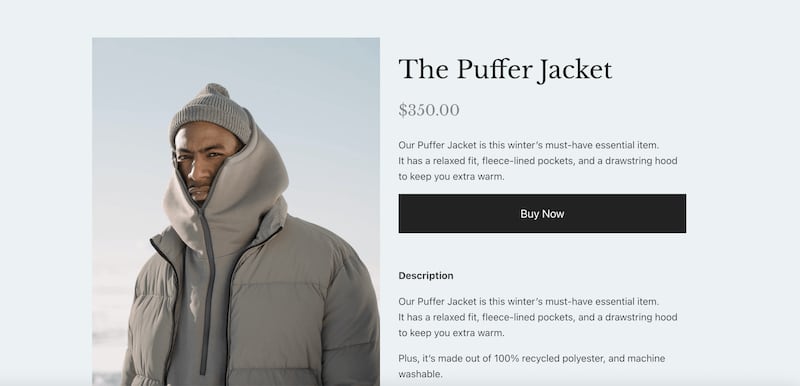 The Quadrat theme was developed for blogs and podcasts pages. It uses squared shapes and colorful, minimalist flat illustrations, which gives a more modern look to the design. It contains a set of custom images that you can choose from to customize your website.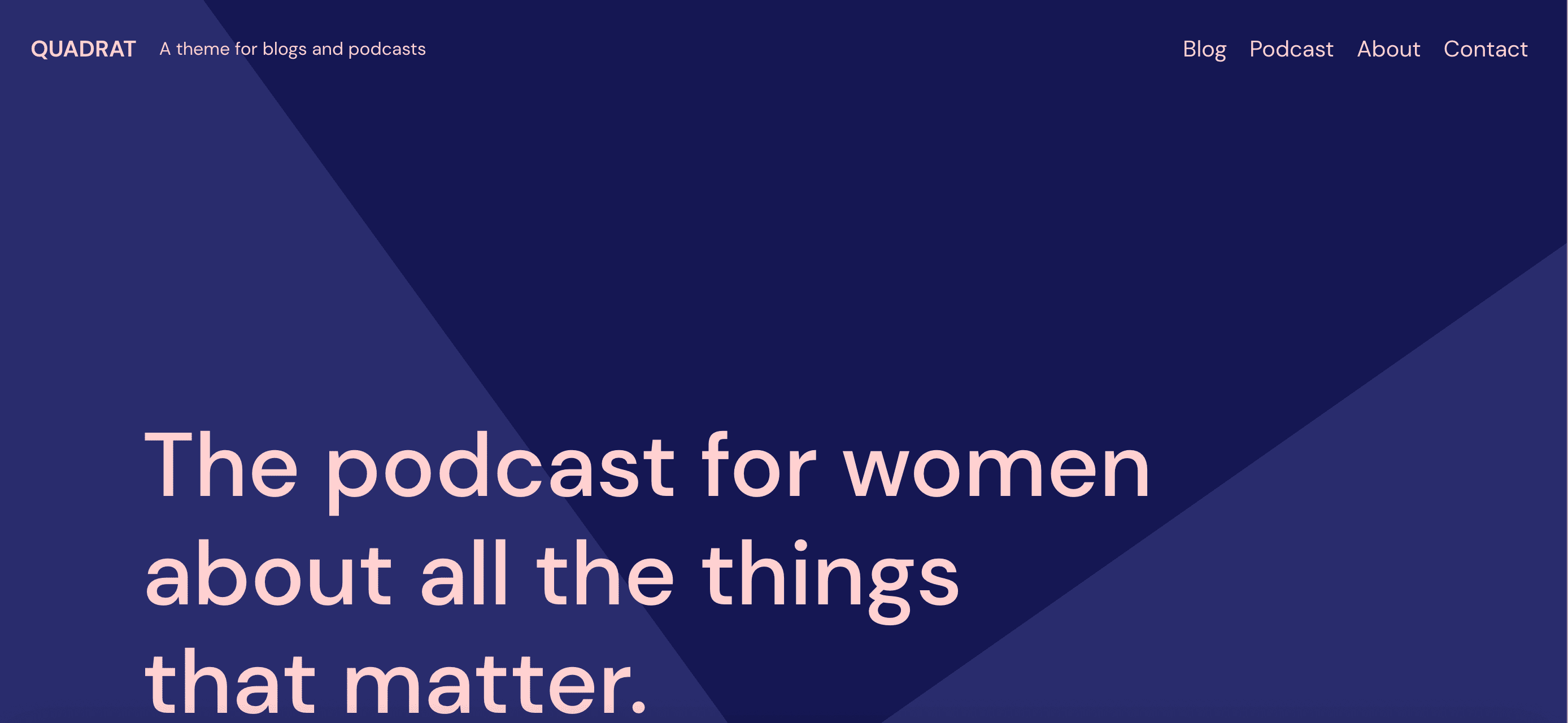 The color scheme with a background in shades of blue and the letters in pink create vibrant contrast, but you can change the colors according to your needs. You also can link to platforms such as Spotify, and add a form to sign up for your newsletter. 
The Email Handyman template was developed for startups. It has a clean design, but that also enables you to use images overlayed with texts. For example, on the home page, the background with a picture calls the visitors' attention, mainly with the use of the yellow filter, which matches the color scheme.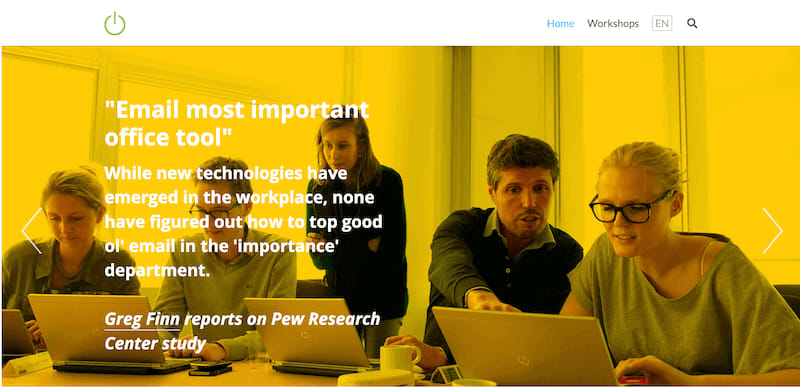 You can create a fixed menu on the header, divide the website by categories, and also make it available in more than one language. 
The Lever and Bloom template has a clean and minimalist design with a menu on the left side of the pages and can be used for different types of business websites. You can add photo galleries, menus, reviews, and customize the colors.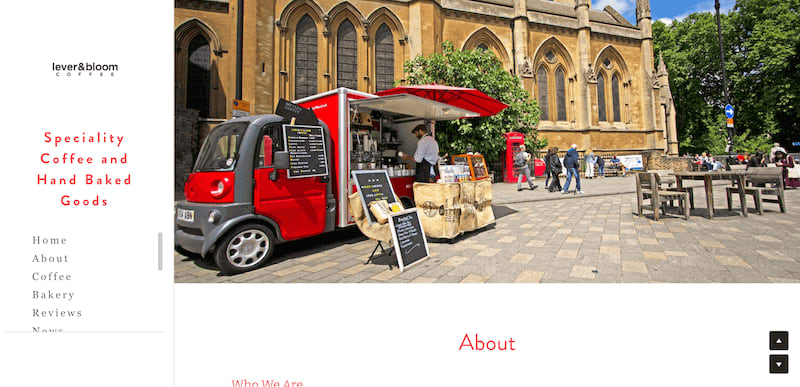 With a one-page interface, it's possible to navigate through the website just by scrolling down. You can also add the Instagram feed and show it directly on your page. 
The Modus Operandi Template has a design focused on images, which reminds the Instagram feed. With a minimalist design, you can use it for portfolios, and avoid distraction by keeping it clean, without too many graphic elements.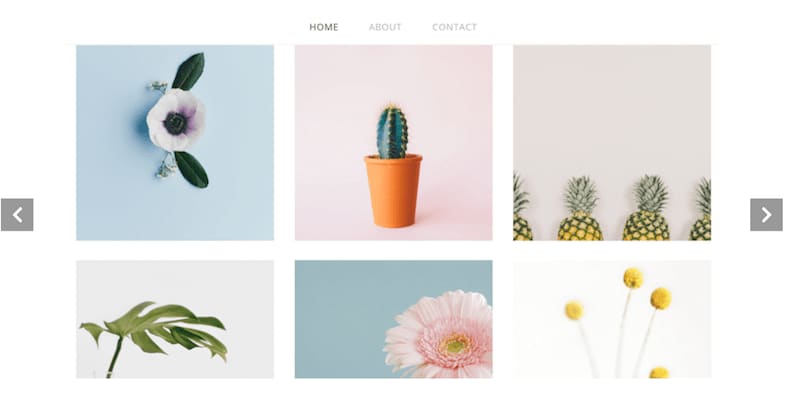 The template also has a sticky navigation menu, which stays at the top of every page, even when you scroll down, which facilitates navigation. You can insert social media icons to direct to your pages, and a contact form as well, so your clients know how to get in touch with you. 
The Century Arts template was created for corporate events. It combines a classic style with a touch of color by using red to highlight some texts and also inserting pictures on different pages. The website menu stays on the top right corner of the website, which is divided into the sections: home, speakers, gallery, and RSVP.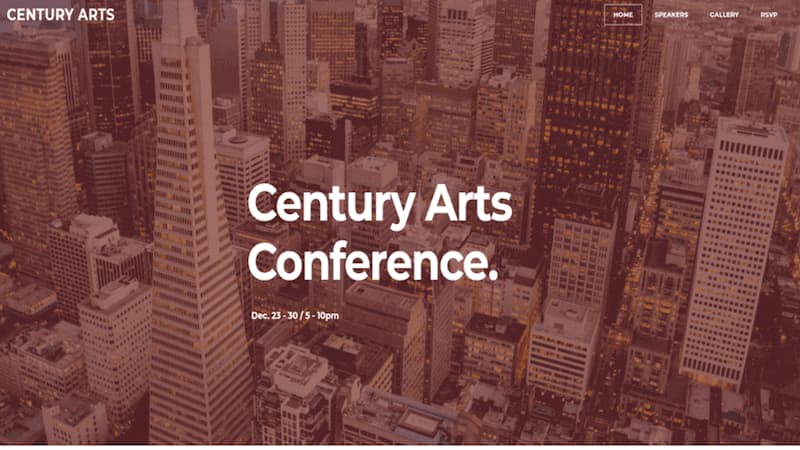 If you have a startup that works in the finance, technology, or corporate industry, Company X is a template built thinking of your type of website. It has a responsive design, showcases high-resolution photos and videos on a black backdrop, and you can use animations in the pages too.
It's also possible to add forms, custom the 404 page, use fonts from Google's Web Font Collection. The design comes already with 19 pages, including home, about, team, blog, pricing, contact, and service.
The SaaS Flow template was developed for companies that work with Software as a Service (SaaS), as the name already implies, it has a modern and clean design and offers seamless navigation.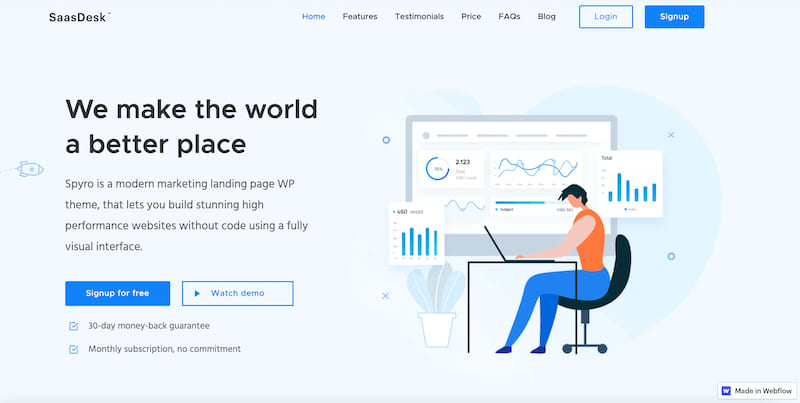 With a color scheme predominantly in blue, it's possible to add pictures, animations, charts, testimonials and have a blog section too. The menu is fixed at the top of each page, making it easier to access different content fastly. 
To guarantee a good user experience regardless of using a desktop or a mobile device to enter the website, it counts on a responsive design too. 
Choose the Best Website Builder Template
Now that you have got to know more about different website builder templates, it's important to evaluate how to make the best choice for you. First, plan your website, what section do you want to include on it, a blog and an ecommerce, for example? Check if the template has a design for them. 
Also, don't forget to opt for a responsive design, which means the users are going to be able to smoothly navigate through your pages on their mobile devices and desktop computers. The template needs to be aligned with your brand's visual identity as well, you should be able to customize some design elements. 
Go through the options of website builder templates you have carefully, think about your target audience too. Once your pages become available, you will see how a well-constructed template influences getting more visitors and increasing conversion rates.