9 Steps to Launch a Highly Engaging Chat Window
Igor Shekotihin
Head of International Growth
You know that a website is a serious investment and an important marketing tool for your business. But did you know you can leverage your online presence and engage even more customers by adding a chat window to your site?
Taking advantage of a live chat box on your company's site lets you add an optimized marketing solution and provide an instant connection with customers. The benefits of implementing a chat window allow you to capture more leads, grow sales, provide dynamic support, and even upgrade your customers' journey.
Let's break down the basics of a marketing strategy that takes advantage of chat window technology. Learn about the benefits of adding a chat window on your website, how to get started, and how to engage customers.
What is a Chat Window?
A chat window is a website feature that lets your customers interact with your brand online and in real-time. A chat window might pop up in the bottom corner in the user's browser window, and customers and website visitors can type a message or query directly into a text field.
How the customer's message is handled in the chat window is up to you. You might have a live agent standing by to help, you might rely on a programmed bot to respond, or you might use an AI-powered chatbot to interact with customers.
There are many reasons why a live chat box is a powerhouse piece in your digital marketing toolkit. A chat window can transform online experiences for customers and boost online conversions.
Why Add a Chat Window to Your Website?
A chat window on your website makes providing great customer service easy. The conversation takes place in the browser, which means the customer isn't required to switch apps or download software to connect. However, this simplicity isn't the only benefit of adding a live chat box to your website.
Why add a chat window to your website? Consider the following factors.
Capture more leads
A chat window on your website makes it easy to get customers in your grasp. In fact, numbers from Zendesk indicate that live chat comes with an 85% customer satisfaction rating. Happy customers could be more likely to show interest in your brand's products or services and turn into warm leads.
Increase your sales
Data from research and consulting firm Forrester suggests that website visitors who engage with a chat window are 2.8 times more likely to turn into customers than those who don't. Studies also prove that buyers who engage with web chat spend 60% more than those who don't use the chat feature. Increase your sales by adding a chat window to your website.
Provide proactive support
A live chat window on your website makes it easy to keep customers happy by providing a channel for proactive support. Numbers from HubSpot indicate that 70% of online consumers have resolved issues over chat. This approach lets your brand address concerns before they become problems.
Improve customer experience
Customer experience is another core area that can be improved through chat windows. Figures provided by Econsultancy show that 79% of consumers prefer chat support.
Reasons cited include access to immediate responses, more effective communication, and better information. The preference for chat and the reasons behind it all add up to an enhanced experience for your customers.
How to Add a Website Chat Window
A lot of hard work and expert coding went into creating your website chat window software. This doesn't mean adding a website chat window requires the same effort and technical background. You can add chat to your website in just minutes and start reaping the benefits of providing chat window services almost immediately.
There are two easy ways you can add a website chat window:
Add a line of code
You can add a website chat window by installing a simple line of code. An HTML code can be automatically generated for you to simply copy and paste onto your website. You'll want to add the line before closing the tag on each page where you'd like the chat window to appear.
Install a chat plugin or app
Most modern CMS platforms make the process of installing a website chat window simple. WordPress, Shopify, Wix, and dozens of other platforms allow you to add the live chat plugin right from your dashboard. This method of installation is simple and hassle-free, with no coding or HTML knowledge required.
9 Ways to Make Chat Windows More Engaging
Adding a website chat window is the first step. Getting customers to use it is the second step. An engaging live chat box will attract customer interaction and promote lead capture, increased sales, proactive support, and an improved customer experience.
Here are nine ways you can make your chat window on your website more engaging and help move customers down the sales funnel toward conversion:
Add branded colors
JivoChat makes it easy to give your on-website chat widget a custom appearance. Add your custom colors, add a background, and change the style and color of CTA buttons.
Consider taking advantage of this feature to make your chat window align with the rest of your website design. Adding branded colors to your live chat box will give your website a consistent look and make the chat window a natural extension to your customer's online experience.
Use chat triggers
Did you know your live chat window can send a message unique to your customer's online behavior? Chat triggers are smart rules that prompt a trigger-based bot influenced by a visitor's information and browsing history. Triggers can be based on the number of pages viewed, time spent on site, user intent, URL parameters, scroll depth, device type, and other user data.
Chat triggers can proactively personalize the customer journey, boost engagement, increase conversions, help you provide better service, and help you significantly improve your live chat box ROI.
Personalize messages
As mentioned above, chat triggers can help you personalize messages based on user behavior. JivoChat integrations can let your chat window software "talk" to your CRM and other apps to provide an even more tailored experience, perhaps even greeting your customers by name. Messages can be based on previous site visits, current page, duration on site, and other factors.
A personalized message will help your customers feel welcome and at ease when doing business with your brand online.
Localize messages
Website chat windows should meet your customers where they are. You can localize messages in your live chat box by speaking your customer's language. In fact, JivoChat is available in more than two dozen languages, with more being added regularly.
Options for multilingual websites are available, too. No matter where your customers are, the right chat window software will help you connect.
Test different locations
The placement of your live chat box on your website is essential to both design and engagement.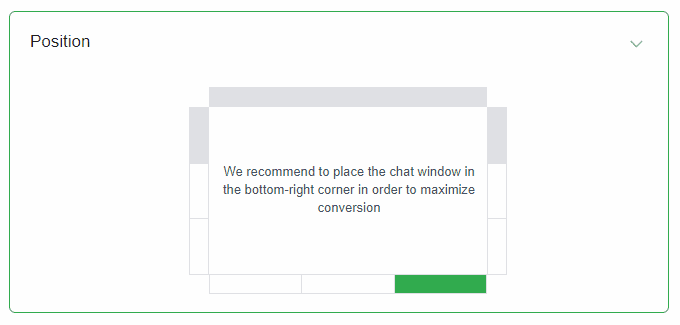 You might start by placing your chat window or button on the bottom right corner of your site. However, testing different locations will help you determine what is best for your brand and what placement leads to the most conversions.
A/B tests are an easy way to compare results and provide quantified data on which location performs best.
Show chat history
Assisting customers down the sales funnel is a form of relationship-building. Showing your customer their chat history might invoke feelings of familiarity and remind them of your brand's great service.
Showing chat history can also save both customers and agents time and effort, as records of previous interactions are right there.
Use chatbots when offline
Keep your chat window engaging at all hours by using chatbots when human agents aren't available. The use of chatbots when offline lets you provide your customers with 24/7 support, as customers often have questions outside of business hours.
The proper use of chatbots when offline will help your customers feel supported at all times. Bots can be preprogrammed to offer canned responses to common queries, use buttons to foster interaction, or even act almost like a human with learning AI.
Simplify (or remove) pre-chat forms
Data from Talkative suggests that each field added to a pre-chat form reduces chat traffic by 5% to 10%. You can maximize lead captures and ultimately conversions by casting a wide net and making it easy for your customers to interact with your chat window.
Asking for low-commitment information — a first name only, for example — can encourage customer interaction and welcome website visitors into the sales funnel.
Enable chat transfers
Chatbots are wonders for marketing and engagement. However, sometimes only a human will do. You can make your chat window engaging by enabling chat transfers and letting your customer decide when a live agent is necessary. This will help ensure web visitors are always speaking to the right person.
Launch an Omnichannel Chat Window
You can take the benefits of a website chat window anywhere by launching an omnichannel solution. The number of channels on which to reach customers is vast. An omnichannel chat blueprint lets you strategically engage customers on the channel of their choice.
Different people have different preferences. Omnichannel messenger systems like JivoChat will let you take your chat window to most digital platforms. Connect with customers on your website, Facebook Messenger, WhatsApp, Apple Business Chat, and platforms, with all conversations conducted from a central dashboard.
Ready to launch your own chat window? Create a free account today.
Set Up Your Chat Window Today
Ready to leverage an omnichannel chat window for your brand's advantage? Set up your chat window with JivoChat today.
In taking advantage of a live chat box for your website, you'll find a direct way to engage with consumers. Capture leads, increase sales, provide proactive support, and improve the customer journey with interactive chat. Adding a chat window to your website is easy and will let you captivate customers at all stages of the sales funnel.
Propel your business forward and meet customers where they are by communicating on their level. If you're ready to let chat window strategy upgrade your business plan, create a free account today.
Like what you've read?
Sign up and try JivoChat for yourself!
It's free and only takes a couple of minutes to download.