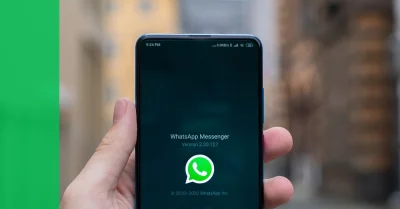 How to Create a WhatsApp Chat Link (and Boost Sales)
November 25, 2020
updated September 27, 2022
Reading time ≈ 12 minutes
Igor Shekotihin
Head of International Growth
WhatsApp is the most popular messaging app in the world--boasting a whopping 2B users across 180 countries.
And while the platform hasn't gained as much traction in the United States as it has elsewhere--the idea that it's "not a thing" in the US couldn't be further from the truth.
According to Pew Research, 20% of adults used WhatsApp in 2019.
To put that number into perspective, 27% used LinkedIn, 24% used Snapchat, 22% used Twitter, and just 11% used Reddit.
Another recent report from Statista revealed that 68M US-based users logged into WhatsApp from their smartphones during that same period, and researchers anticipate that number to hit the 85.8M mark by 2023.
The point is, if you're running a business in 2020, WhatsApp should be on your radar.
If you're already using WhatsApp, you're familiar with the process of adding contacts by sharing them through the platform's groups and conversations, as well as entering the number directly.
The problem with these methods is, they all involve multiple steps--often that means, sharing your WhatsApp link on another channel and then moving the conversation to a second location.
A WhatsApp chat link eliminates that friction and allows contacts and customers to connect in a single click.
In this article, we'll look at how WhatsApp links bring value to businesses and individual users alike.

Who Can Benefit from a WhatsApp Chat Link?
Despite WhatsApp's status as the world's leading messaging service, it isn't exactly a staple of the modern business landscape.
But that doesn't mean it's not useful for brands of all shapes and sizes.
From B2Bs to digital mom-and-pop shops, WhatsApp can help organizations increase visibility, automate communications, and enhance the customer experience on multiple levels.
While there are several ways that WhatsApp can support your business, here are some of the more typical use cases for incorporating the messaging app into your branded communication efforts.
Use your WhatsApp link for customer support
The most common business case for WhatsApp is as a customer service channel.
The platform allows customers to ask questions and submit orders from their smartphones, as you'll see in the example below: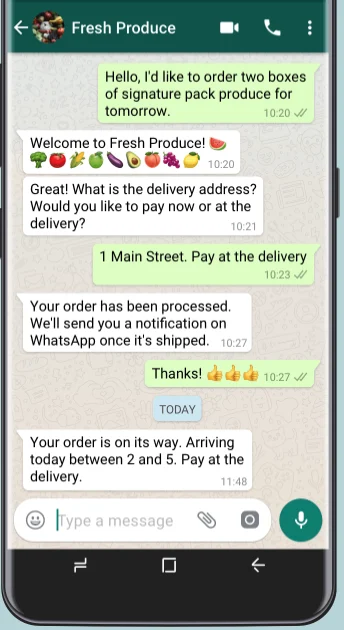 Like Facebook Messenger or native live chat apps, WhatsApp also offers a conversational alternative to support desk tickets or helplines (if you're using JivoChat, you can sync WhatsApp to your Zendesk account so that nothing gets lost in the shuffle).
On the business side, offering your customers the option to submit a service request via WhatsApp doesn't come at the expense of record-keeping, either.
If you're using a service like JivoChat, you can easily sync customer support interactions to your CRM, help desk software, and any other communications channels you use, ensuring that nothing slips through the cracks.
Use your WhatsApp URL for marketing
WhatsApp isn't the most obvious choice when it comes to marketing channels.
You can't run ads (though it looks like you may be able to soon) nor can you initiate conversations with customers unless they've already opted in to receiving communications from your brand.
That said, WhatsApp's limitations may actually be a blessing in disguise for savvy marketers--customers must "consent" to communications, which means WhatsApp leads are more likely to be "high-intent" customers than those sourced from channels with no opt-in requirement.
You can drive traffic to your WhatsApp account by promoting your link in organic social media posts or paid ads.
For example, you might link WhatsApp to your company's Facebook Page and from there, direct traffic to your chat window by adding a link to an organic post, Facebook Ad or by displaying the link in your page's "About" section.
There's also the option to create a WhatsApp group to support your digital marketing efforts. Do note that WhatsApp sets a limit to 257 members per group. While the reason for this limit hasn't officially been confirmed, it likely has something to do with server limits, spammers, or both.
There are some ways to bypass this seemingly arbitrary limit, but as a marketing tool, the small size does present an opportunity to create exclusive experiences for your "VIP customers."
Use your WhatsApp website link for sales
According to a 2019 Facebook survey, messaging is quickly becoming a powerful tool for driving sales.
The report found that 45% of shoppers message brands to receive product or pricing information, 35% say they use messaging to get an instant response, and 31% say they use this channel to receive personalized advice.
Additionally, 33% of respondents said that messaging is an "easy way to shop."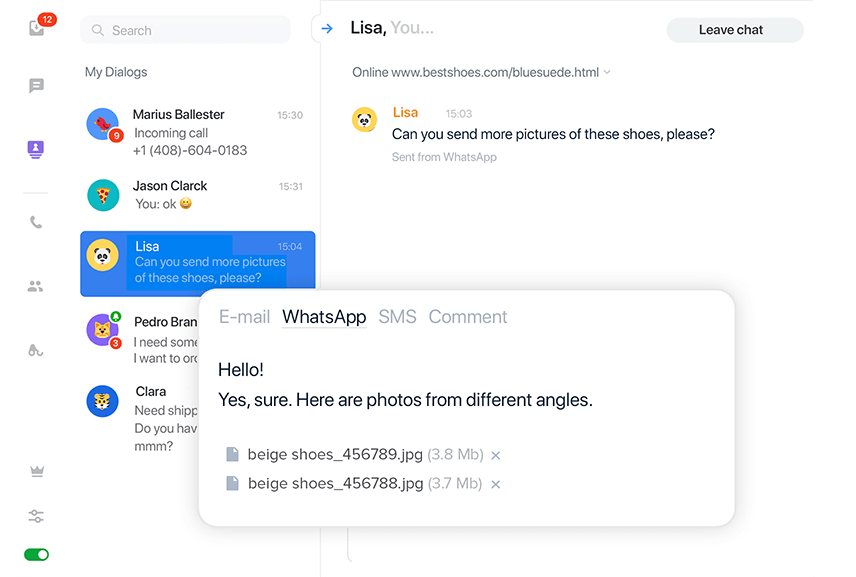 Image: Agents can send and receive WhatsApp messages directly from the JivoChat application.

On the B2C side, WhatsApp allows brands to use messaging as a social shopping channel. They might use ads to drive traffic to the chat window where customers can review personalized recommendations or check out the product catalog.
From there, brands can shorten the customer journey by allowing users to check out directly from WhatsApp. B2B sales reps might choose to use closed WhatsApp Groups as part of a broader social selling strategy--as a channel for sharing expert insights or industry trends.
Or, they might share the company WhatsApp website link with prospects as another way to get in touch with a salesperson.
Additionally, WhatsApp's document-sharing feature makes it easy for reps to share price sheets, custom solutions, or multimedia files with prospective buyers without ever leaving the app.
---
How to Create a WhatsApp Chat Link
A quick note: if you're using your WhatsApp chat link to promote a business, you'll need to create a business profile first.
If you haven't already done so, you can find step-by-step instructions for getting started here.
Once you've set up an account, creating a WhatsApp link is quite simple.
According to WhatsApp's FAQ page, you can create your own WhatsApp link manually by changing the URL people use to contact you.
Copy the code to create the WhatsApp link:
https://api.whatsapp.com/send?phone=
After the (=), you'll want to add your phone number in its complete international format, excluding any brackets, dashes, or zeroes.

How to create a Short Link in WhatsApp
Open the app and navigate to Settings > Business Tools > Short Links.
Tap "short link" to view the link.
Tap the link icon to copy the link and paste it into a message, social post, or add it to another website.
Tap the share icon to send the link directly to your customers--remember, anyone with access to the link can message you so keep this in mind when deciding where you share it and with whom.
You can also create a Short Link using a link generator like Bit.ly.
How to create a WhatsApp link with a default message
Beyond creating and sharing links, you can also create a default message that automatically appears in the text box when a user initiates a chat.
To set it up, make sure the URL follows the same format as outlined above:
"https://wa.me/whatsappphonenumber"
Followed by:
"?text=urlencodedtext"
That "URL-encoded text" represents a default message that users can select instead of typing out a longer response.
For example:
https://wa.me/1XXXXXXXXXX?text=I'd%20like%20to%20return%20an%20item
Alternatively, if you'd like to create a link that includes a default message alone, you can leave out the phone number:
https://wa.me/?text=I'd%20like%20to%20see%20pricing%20and%20plans
Add a WhatsApp link to a paid social campaign
To create a WhatsApp "click to chat" button, you'll start by following the URL instructions outlined above.
Your next steps will be determined by your campaign goals. If your goal is to increase engagement, brand awareness, reach, or views, follow these steps:
Select the campaign budget and hit "Next."
Then, select your targeting criteria, placements, and schedule.
Add your website's URL under "Links," then in the section labeled "Call to Action" select the option, "send WhatsApp message."
There, you'll want to select the WhatsApp number associated with your page from the drop-down menu.
Hit "publish" to finish the job.
For ads focused on generating conversions, web traffic, or messages, complete the following steps:
From there, navigate to your Facebook Ads Manager and select Ad Creation and choose an objective.
Then set your campaign budget and click "Next."
Next, select "Click to Message" from the "Ad Type" menu and select WhatsApp from the Messaging app list.
Select your targeting criteria, schedule, and placements.
Then choose an ad format to complete the setup.
Click + Create to create a flow for your campaign.
Click "Save," "Finish," then "Publish" to launch.
---
Where to Promote Your WhatsApp Chat Link
Around the world, billions of people use WhatsApp as their primary communications channel for messaging friends and family.
For businesses, WhatsApp presents an opportunity to meet customers on their turf, building relationships on the channels their target audiences use in daily life.
While the app hasn't quite caught on in the US at the level it has in Europe, Asia, and Latin America, offering the option to connect directly with a brand through WhatsApp can go a long way in enhancing the customer experience by removing friction in the journey.
Social media profiles
Because you can't use WhatsApp to initiate conversations with consumers, you'll want to make it easy for them to send that initial message.
The easiest way to do this is to make sure that your WhatsApp link is visible on all profiles and pages associated with your brand.
That way, customers, prospects, and anyone else can easily get in touch. Add it to your Instagram and Twitter bios, LinkedIn page, or any other channel where your brand has a presence.
Social media posts
One of the most effective ways to drive traffic to your chat window is to promote your WhatsApp website link in social media posts across all active platforms.
Embed your WhatsApp chat link into Instagram Stories, Facebook posts, YouTube CTAs, you name it.
Business page
Completing a WhatsApp business profile is an easy way to increase your brand's visibility. For one, it's another opportunity to appear in the Google search results--much like a Facebook company page or Google My Business Profile.
Second, it provides some assurance to customers that they're talking to someone from your actual business--not some imposter.
Your WhatsApp business page allows you to share links to your virtual store and even sell directly through the platform.
Additionally, verified users gain access to messaging stats and metrics (think sends, delivery rates, and read receipts) and the ability to build a product catalog that can be shared via chat.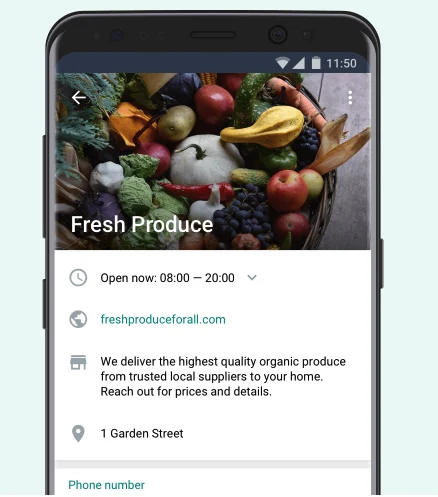 ---
Take Precautions With Your WhatsApp Link
Promoting your WhatsApp link across public-facing channels and profiles enhances your visibility and makes it easier for customers to get in touch.
At the same time, it also gives hackers, trolls, and spammers an opportunity to use your contact details for malicious purposes.
Here's what you need to know to protect yourself, your customers, and your brand from bad actors.
Protect your privacy
When you manually create a direct link, the phone number and the corresponding message are visible to anyone that comes into contact with that URL.
For example, if you create a link and publish it on say, Facebook or Instagram: _ _
"Message us on WhatsApp using the link: https://api.whatsapp.com/send?phone= Telephone & text = Message," anyone can see your entire phone number.
Luckily, you can easily avoid this issue by using a link shortener like Bit.ly to conceal your contact details.
For more information about staying safe on WhatsApp, we recommend reading through the platform's official recommendations.
Monitor bots and suspicious activity
While using a link shortener can help you conceal your WhatsApp phone number, it doesn't prevent the wrong people (or bots) from clicking the link and sending a message.
With that in mind, you'll want to keep an eye out for suspicious messages and spam.
If you don't recognize the number or something about the message seems "off," you
can block the contact from your WhatsApp account.
That said, if you're using WhatsApp as a customer support tool, many of the "legit" messages coming through your inbox will likely come from unknown numbers.
---
Connect WhatsApp with JivoChat to Boost Sales and Support
JivoChat's WhatsApp integration helps sales teams reach prospects faster, improve accessibility, enable collaboration, and streamline communications--all from one secure central hub.
Create one WhatsApp link for all channels
JivoChat allows users to create a single WhatsApp link for all channels by setting up "omni-channels."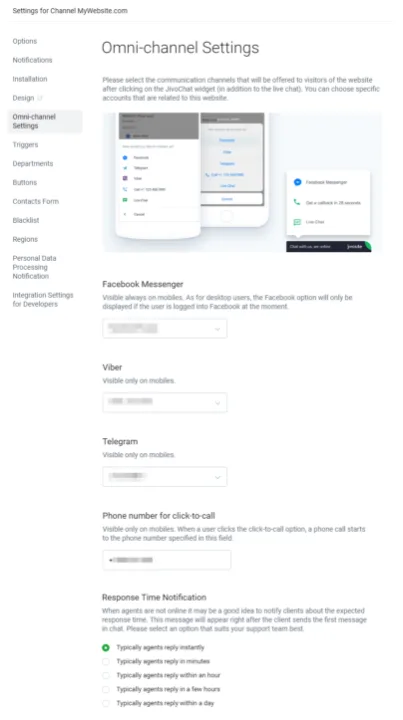 Additionally, all employees use the same number, no matter how many agents are communicating with customers at the same time or how many platforms are in the mix.
Distribute messages among agents for faster response times
WhatsApp Business allows customers to reach companies directly.
However, sometimes agents are busy or unable to answer messages in real-time.
All WhatsApp messages appear inside JivoChat and are automatically routed to agents, based on their availability, expertise, or other criteria, ensuring that customers receive a timely answer to their questions.
Improve message security
Shortening your WhatsApp link and controlling the information visitors see can help you avoid some of the biggest risks associated with the messaging app.
However, syncing your account with JivoChat takes message security a step further--protecting both your brand and individual users. All messages are sent through JivoChat, not your employees' phones.
The benefit here is, if an employee quits, you'll retain all past communication records, while former employees will no longer have access to that information.
Send WhatsApp messages into your CRM
JivoChat allows users to integrate WhatsApp messages with your CRM software. This allows you to keep track of customer contact details, communication records, and critical insights from all customer-facing channels and communications tools from a central location.
The benefit, of course, is businesses can incorporate insights from their WhatsApp conversations into other aspects of their business strategy—whether that's creating new products or features based on the feedback sourced from WhatsApp conversations or developing more relevant content based on customer questions.
Click here to sign up for a free account to see JivoChat for WhatsApp in action.
Like what you've read?
Sign up and try JivoChat for yourself!
It's free and only takes a couple of minutes to download.